New
Ellen Wash Lounge with Massage
Electric Reclining Shampoo Lounge & Hairdressing Basin with Massage
style: 1537
Hello Ellen.  An electric reclining hairdressing wash lounge with pulsating massage. With slimline armrests, this comfy, cushioned shampoo lounge and hairdressing basin is superbly crafted for luxury and style. The honeycomb detail stitch makes a striking silhouette while the padded seat cushion adds a luxury feel with additional comfort.  The added pulsating massage is that extra touch to make clients feel relaxed. Did we mention it's comfy too, with Comfortel's Comfort Series 'Memory Foam' Technology
Customise the look:
Choice of Basin Colour
Optional Tapwear colour with a 5 Star WELS Rating of 5L per minute
Choose Option 1 (mandatory):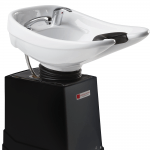 Basin Stand – White Basin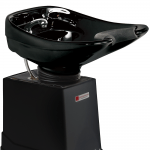 Basin Stand – Black Basin
Choose Option 2 (mandatory):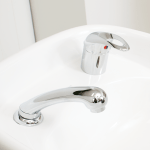 Flick Mixer Tap Set Chrome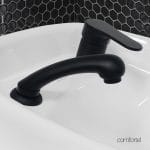 Hairdressing Flick Mixer Tapset – Matte Black
Add to Wishlist
Features
Shampoo lounge with electric recliner and waterproof foot control
Comfortel's Comfort Series 'Memory Foam' Technology
Pulsating Massage
Professional hair salon back wash shampoo lounge and hair basin.
UV stabilised, cold crack protected upholstery
Fully adjustable – can stop in any position.
The adjustable recliner provides customisable comfort for the client
The superior cushioning make it comfortable to sit in the chair for long periods of time
Fully upholstered armrests
Tilting and sliding basin
Includes Comfortneck
Specifications
Total Width                              69cm
Seat Width                                54cm
Basin Height                            90cm
Recline Length Range          156-190cm
Water Consumption              5L per minute (5 Star Rating)
Upholstery        UV stabilised, Cold crack protected, Fire retardant
Colour              Black
Plumbing
• 40mm flexible waste pipe included
• Plug and waste factory installed
• Tilting mechanism factory installed
Installation/Assembly
If you have purchased this shampoo lounge from Comfortel please download the installation guide:
DOWNLOAD  1537 Ellen Washlounge – Comfortel Owners Guide
Always follow installation instructions.
This shampoo lounge must be installed by a licensed plumber.
Maintenance
All upholstery needs some care; good housekeeping will help to prolong the life of any upholstered products. Avoid extreme temperatures. Extreme cold can make your vinyl prone to cracking, while extreme heat can cause permanent stretching.  Avoid exposing your products to direct sunlight for prolonged periods of time.
Cleaning Instructions:
• Clean regularly (weekly) to remove body oils which cause hardening.
• To clean use a sponge which has been moistened in warm soapy water.
• After cleaning with a sponge, dry with a soft, clean cloth.
• Stubborn grime may require gentle scrubbing with a soft brush.
Do not use:
• acetone
• furniture polishes
• bleach
• detergent
• abrasive cleaners
• steel wool
A periodic inspection of all components and fasteners should be made to ensure that your beauty chair is structurally intact and functioning properly.
Delivery & Payment Information
DELIVERY INFORMATION
We use a variety of professional carriers who deliver anywhere within Singapore. Your location and order size will impact on the timeframe to get your order to you.
Provided all items are in stock, delivery lead times are as follows:
– Singapore areas: Up to 10 Days
For special requirements, please contact our customer service team on +65 6677 0715  or email us at info@comfortel.com.sg and state your web order number.
PAYMENT METHOD
We accept the following methods of payment: Direct Debit. Direct Debit information will be issued once online order has been placed.
For payment arrangements , please contact one of our sales manager:
Call us: +65 6677 0715 or email us at: info@comfortel.com.sg.
Please note: goods will not be dispatched until Comfortel Furniture has received full payment.
For more information please see https://www.comfortel.com.sg/delivery-shipping/